I'm back in Munich for a recurrence of my cancer. I nearly did not come for my check-up this year because I've been doing so well. I had a couple of bone scans about 6 weeks apart in the U.S. because I had a nasty bout of costochondritis and my sternum had been painful for months. The scans showed no progression of disease so no PET scan was ordered and I was pronounced stable on December 31. I was scheduled for another CA 27-29 reading in February due to that number trending up, and then I was turned loose at home. My yearly check-up in Munich, Germany, was already scheduled for January 20, and I brought copies of my scans and reports with me. They looked good! Little did I know. Good thing the clinic here does not rely on U.S. tests as the definitive word.
Here I am in one of the hundreds of public gardens in the beautiful city of Munich.
I had been coming back to Munich for check-ups ever since I finished my first 3-month course of treatment. That was in the fall of 2016, 18 collections and returns of Natural Killer (NK) cells plus surgery to remove my primary tumor in the left breast. My first check-up here after that course of treatment had been in May of 2017, just 5 months after leaving. Unfortunately my numbers were rising again so I was advised to stay for 8 collections and returns over two months. I went home in July of 2017. I returned for another check-up in February of 2018 and that apheresis showed that my immune system was up to the task of turning my cancer around. My numbers had dropped and I needed no treatment. I had extra vaccines made instead. I was sent for a whole-body PET scan to be sure, and it was clean, no evidence of disease. Dr. Kuebler did recommend at that time that I go to Frankfurt for an expensive procedure followed by cryotherapy to seal the biopsy sites in my sternum. This would prevent further metastasis which could originate from that site. They do not believe in that sort of biopsy here and now I'm walking proof of that point. But in 2018 I wasn't thinking in harmony with that suggestion. I was satisfied because the primary tumor sites in my breast were clear and so I happily went home, this time for a year. Again in January of 2019 my apheresis numbers were still going down even further and I was sent home without treatment. By that time I was feeling great and did not think of myself as a Stage 4 cancer patient anymore. I also need to admit that I began to slide on some of the wellness practices that had helped to bring me such amazing success.
My costochondritis flared up in September of 2019 but I didn't connect it to the advice I had ignored from Dr. Kuebler nearly two years earlier. My friends were saying how great I looked, and I felt well too, at least underneath that annoying costochondritis thing, which of course should have been a huge red flag about my sternum. Certainly my best friend Karen was thinking about it, and said so often. Even with Karen pressuring me to come back earlier, I did not feel urgent about coming back to Munich because I had "good" bone scan results in hand. The pain in my sternum brought me here, and that pain turned out to be very reliable information. My apheresis numbers had shot up even higher than they had been in 2016. We were all shocked. Dr. Kuebler's letter to me with the report began, "Dear Mrs Daniels, something happened to your immune system in the States." He sent me immediately to Stuttgart for a whole-body PET scan, which showed active cancer throughout my sternum and at least two spots in my liver as well. I returned to Munich and started with three collections in the first week. Dr. Kuebler got me a quick first appointment with the specialist in Frankfurt and my daughter came in from France to accompany me. My head was spinning but I was in good hands all around. I found an AirBnB apartment and my daughter made arrangements to leave her home and work for the months I would be in treatment and making overnight trips for procedures in Frankfurt. She has been incredibly helpful. I'm very grateful for the many people who are helping me stay here for my full recommended course of treatment. This includes many people who have donated money for my treatment. I also could not be here without support from my daughter Heather and my best friend Karen who is caring for our 5 dogs and kitty along with her regular full-time work and the tireless help she provides for her ailing parents.
Now the procedures that Dr. Kuebler had recommended for my sternum are not optional, nor are they quite so simple. In addition to a recommended course of 12 collections and returns of NK cells here at the clinic in Munich, I will also be traveling several times to the University Hospital in Frankfurt for a course of specialty interventional radiology procedures to attack the cancer which is active in my sternum and liver. The area of involvement in my sternum is large, 4 cm x 5 cm. I have had the first of the TACE procedures to target chemotherapy to the area from the bottom. TACE stands for TransArterial ChemoEmbolization. You can google that, it's a well-known procedure, now MRI-aided for pin-point accuracy. This week I will be going again for the procedure to be repeated, attacking the area this time from the top of the sternum. After my recovery the area can be sealed with cryotherapy. Then we move on to the metastases in the liver. I expect to be here through March.
Here I am today in the clinic in Munich. I'm under the needle for another collection, and I'm holding my container of fortified NK cells which will be returned to my bloodstream through this same needle when the collections are complete. I will be well again, this time hopefully wiser for the set-back.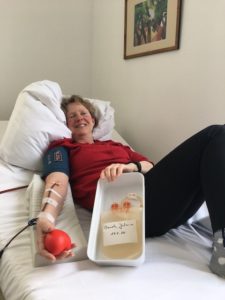 I know a lot about how these immunotherapy treatments, collections and returns of NK cells, work for me and why. I'm about to learn a lot about how active cancer can be isolated for more conventional treatments like targeted chemotherapy that does not poison the entire body. And I had better learn a lot more about remaining true to the lifestyle changes I made so diligently when I worked with this team to bring me back to health in 2016 and 2017. I will let you know as I experience and learn my lessons.
Julie Daniels, Munich, Germany
February 17, 2020